About
Located among historic buildings, on a tree-lined street in Colonia Condesa, in Mexico City, the Hotel Condesa DF blends in with the bohemian spirit of its surroundings.
From the furniture designed by the Parisian interior designer India Mahdavi, to the stone tiles, Hotel Condesa DF mixes contemporary design in a 1928 French neoclassical building.
Modern in style, but at the same time warm, elegant but unpretentious, the 40 rooms and suites were inspired, without sacrificing comfort, by the simplicity of monastic bedrooms. The result is an environment of calm and airy spaces, some of which open onto wooden terraces. An overall floral theme is punctuated by certain details, such as the cushion covers, which serve to enhance the relaxed and welcoming atmosphere.
Compared to SoHo in New York, Condesa is considered one of the most modern areas of Mexico City. Characterized by time-worn colonial architecture, it is packed with chic, cosmopolitan venues and lush green parks with tropical plants and trees. A neighborhood that attracts young Mexicans and foreigners in this vibrant, fresh and ever-changing city.
Architecture
Javier Sánchez
Interior design
India Mahdavi
Restaurants
El Patio is a perfect fusion of Mexican and French cuisine served in the central Patio of the hotel. In a unique enclave, surrounded by trees and vegetation, the Mexican Chef Antonio Balderas prepares seasonal cuisine with marked French technique.
El Patio is synonymous with community. Every day it witnesses how guests from all over the world mingle with neighbors, businessmen, architects and various celebrities creating a totally cosmopolitan atmosphere around a café. Its acclaimed Sunday brunch, which changes its gastronomic offer weekly, is a must-see whether you are near the Countess or not.
*Pet-friendly space
Schedules
Monday - Friday 07:00 AM – 11:00 PM
Saturday - Sunday 08:00 AM – 11:00 AM
Terrace
With incredible views of Parque España and Chapultepec Castle, this triangular space stands out for its careful design, unparalleled mixology and for having one of the best sushi bars in the City.
Hailing from the Morimoto school, Japanese chef Keisuke Harada presents a diverse representation of Japanese dishes with light Mexican touches.
Schedules
Sunday – Wednesday 02:00 PM – 11:00 PM
Thursday – Saturday 02:00 PM – 01:00 AM
Events
Condesa DF offers its spaces for private events, adapting to the number of people and customer needs, with a wide variety of menus, cocktails and open bar service. A place that for its style will never go out of style.
Neighborhood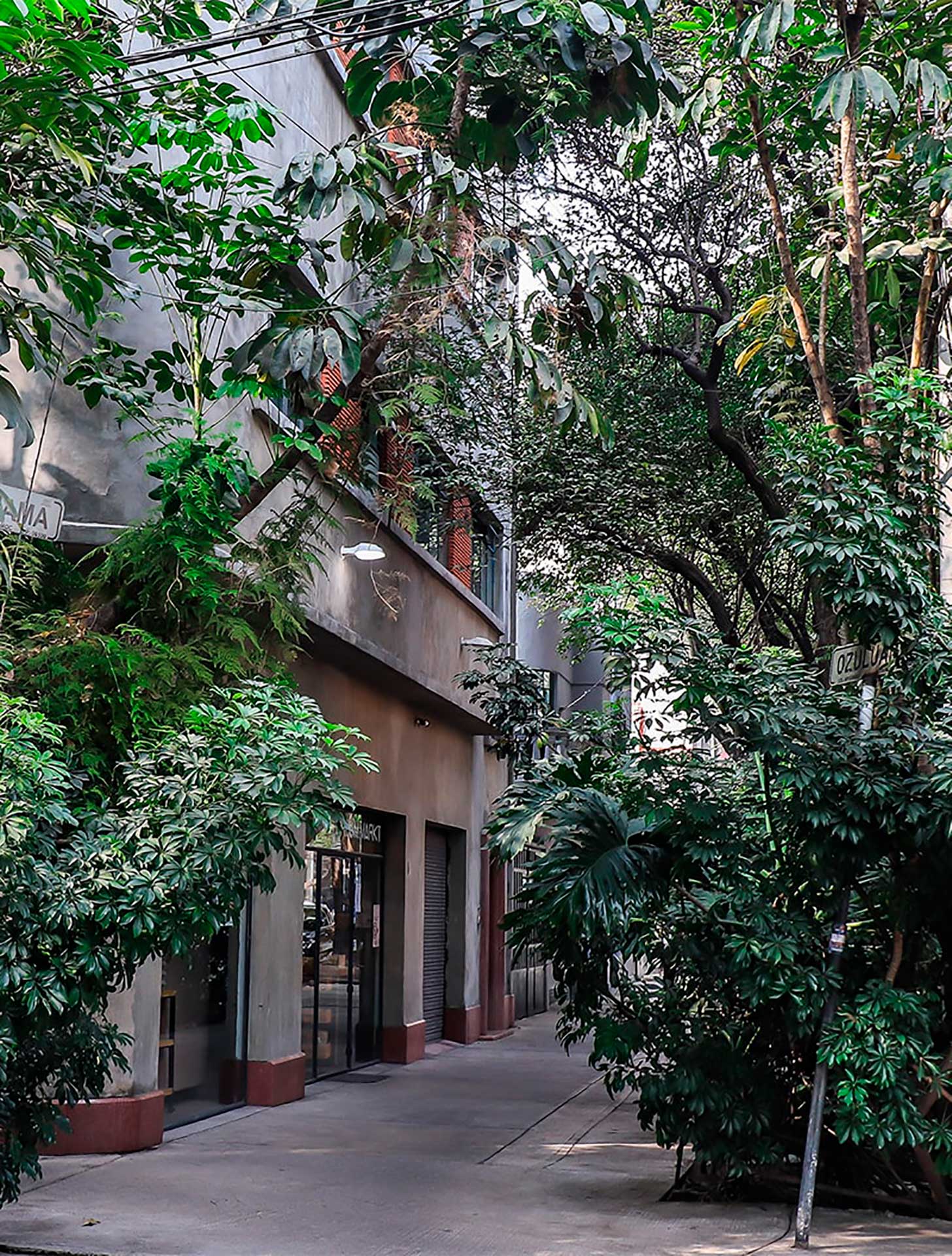 BETWEEN TWO HISTORIC NEIGHBORHOODS
The Hotel Condesa DF is located on the border between two historic neighborhoods: La Condesa and La Roma. Veracruz Avenue is literally the limit between one and the other, both with enormous heritage value. In both areas there is an extensive architectural heritage with styles as varied as Art Nouveau, Art Deco, Beaux Arts, Neoclassical, Neo-Gothic and even Functionalist. Few areas like this one where architecture, parks, public spaces, artistic spaces and an exemplary neighborhood life coexist.
IMAGINARIES AND NEW OPPORTUNITIES
The Roma and the Countess have been an important part of popular culture and national literature. Novels such as Battles in the Desert by José Emilio Pacheco, El vampiro de la colonia Roma by Luis Zapata, Detectives Salvajes by Roberto Bolaño and recently the film Roma by Alfonso Cuarón, have portrayed life on the streets of these emblematic middle-class neighborhoods of Mexico City.